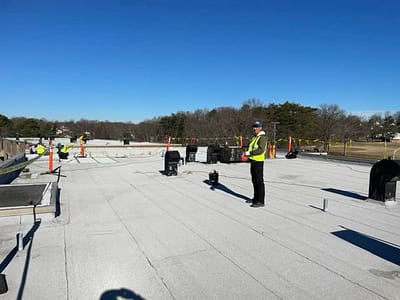 When you look at it from the outside, getting a roof built for your home doesn't seem like a tough task. That's until you actually start getting into the zone and realize it involves a lot of intricacies.
One such factor involved in creating a roof for your home is deciding whether you want a flat roof above your place or one with slopes? While both, flat and sloped roofs have their own list of pros and cons, there has been an increasing demand for getting flat roofs by consumers for their homes, for varied reasons.
Let us understand how flat roofs are beneficial and how can you keep them maintained and in top shape with some easy-to-implement tips.
If you are getting a roof developed and set up in Maryland, you most certainly have a choice to choose from a flat roof or a sloped roof for your home.
Whatever you may end up choosing, depends on a large number of reasons. However, if you are going for flat roofs for your home, there are a number of benefits you might be aware of. Here are some of those.
Flat roofs are considered to be far more cost-effective than any sloped roof. This is because of a large number of reasons.
The materials involved in a flat roof installation are cheaper and less expensive to install.
Moreover, since the cost of installation is low, the maintenance of these roofs becomes cost-effective too.
When you get a flat roof for your home in Maryland, you get a space that's versatile enough for you to explore and experiment.
A flat open space can help you with a large number of possibilities such as installing solar panels on the roof, having a roof garden, or using it as a space to keep your air conditioning units.
Having a flat roof can be a blessing for your home.
3. More Effective Interior Space
While your outdoor space turns out to be more versatile, the indoor spaces get more area too. When you build a home with a flat roof, you can get creative with the flat roof area too. Maybe, if the area permits, you can have an additional room on top or an attic.
The flat roof on the top of your home is much easier to clean than any sloping roof. You don't need to call a residential roofing service near you to get a flat roof cleaned. Moreover, placing the ladder at the right spot and the other hassles that come with sloped roofs stay at the bay. They are also safer and easier to inspect, hence saving you the costs of a roof inspection.
3 Quick Tips For Flat Roof Maintenance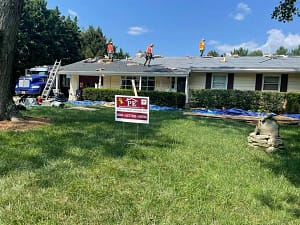 Once you get to know that you need a flat roof for your home, it is imperative for you to know how you can take care of it easily. Here are three easy-to-implement tips for flat roof maintenance.
1. Schedule Regular Inspections
A flat roof does not mean that it won't require regular inspections. Calling in a roof inspection expert from time to time can actually end up saving some costs for you in the longer run. Politz Enterprises Roofing is an expert when it comes to roof inspection, replacement and repair and our team looks into such aspects closely.
2. Check For Drainage & Gutter
Inspect the gutter and drainage on a regular basis. One of the major cons of a flat roof is that it's very prone to water collecting on the roof. A pool of water can further seep into the roof, weakening the structure and other materials.
In case you spot even the littlest pool of water on your flat roof, feel free to get in touch with our Fredrick roof repair services, and our team will make sure you don't have to deal with that ever again. Furthermore, we make sure that no debris such as leaves, twigs, etc are blocking the flow of water in the gutters.
3. Don't Let The Debris Stay
Debris is the biggest villain in your roof's life. Any kind of debris is it from a tree or some unused stuff from your home counts as debris.
The point is, don't let any kind of debris remain on your flat roof for various reasons. One, it adds to the weight on your roof, and second, any kind of debris on your roof leads to moisture retention, further leading to the development and growth of algae and mold.
Another way, you can avoid debris collection is by trimming away the nearby trees. This will avoid any collection of twigs, leaves and other items from the tree on your roof.
Flat roofs tend to have a wide range of pros in their favor and a similar list of cons to accompany them.
Should you get a flat roof at the end of the day is the choice that depends on your personal choices and a lot of other factors. Hence, summing it up in a yes or a no would not do justice. However, whatever the roof that you're planning to go for, make sure it's inspected regularly.
This is where Frederick Roofing comes in. Whether you need new roof tips and consultation or a repair and inspection on your older roof, we can do it all. So, the next time you've got flat roof maintenance on your mind, you know who to call.