Roof Installations in Damascus Maryland
Affordable Roofing Services in Damascus from Quality Roofers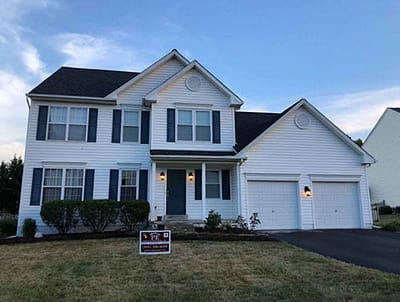 A 5-star rated roofing company in Damascus, Maryland providing quality roofing services at affordable prices. 
Politz Enterprises Roofing Company is a family-owned and operated local business that has been around for 50 years. Our roofing experts have continued to hone their experience, education, and technical skill to provide reliable, trusted roofing services to homeowners in Damascus. Numerous benefits including financing options, discounts for seniors and military, lifetime warranty options, and more all are what make us a customer favorite roofing company.
Our roofing experts also provide gutter services and siding services to homeowners to help boost curb appeal and provide better home efficiency. We know the frustrations that come with needing to finance and schedule major work like roof replacements or siding installations, so our professional contractors do more than just replace roofs: we handle all clean-up after the job is complete! We are responsive, on time, and have the equipment necessary for unexpected issues so you can get back in your home or office without feeling inconvenienced.
Don't worry about your home, you are in safe hands: learn why we have over 100 5-star reviews from our customers and an A+ rating from the BBB. If you are a Damascus homeowner in need of roof repairs today, give us a call.
Trusted Roof Repairs in Damascus, MD
Roofing professionals you can count on
Financing available for total roof replacements in Damascus with Politz Enterprises. Don't stress about the cost of getting a quality roof again. Our roofing contractors make sure to work with homeowners to ensure they can get the roof they need to protect their home. How do we do it?
Free roofing estimates for Damascus homes
Financing options available for almost any budget
Lifetime warranty options to protect your roof investment
Roofs are critical to the stability and protection of a home. Whether you opt for traditional asphalt shingles or a different roofing material entirely, our roofing contractors have you covered. We will help increase your curb appeal and lower your energy bills with an effective roof installation.
Our free estimate appointment will help you determine what exactly your home needs. Our Damascus roofing company has team members available to respond in a timely manner to get you the answers you need. Be prepared and feel confident when you invest in a new roof with Politz Enterprises roofing company.
Select from a variety of roofing options for your total roof replacement in Damascus:
Asphalt shingles
Cedar planks
Copper
Slate
New Gutters and Siding in Damascus
Get a new gutter and siding installation to protect your home today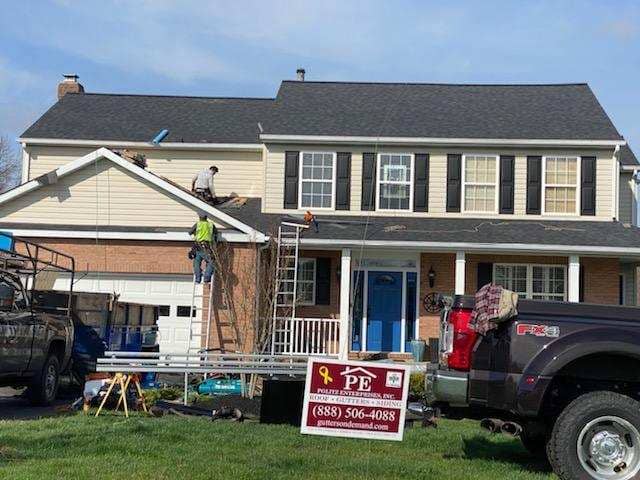 New gutter installations and siding services are only one call away in Damascus with Politz Enterprises. Keep up on the exterior maintenance of your home with our roofing contractors near you. We are equipped and experienced to handle new gutter installations and new siding installations when your home is in need.
Exterior maintenance and new installations provide you better energy efficiency, lower energy bills, and a higher home value. Investments today pay off for years, especially against unpredictable Maryland weather. We believe in eco-friendly homes with lower energy costs and we are here to help make it happen.
New siding and gutter installations protect your home and family from mold, mildew, and insects. You'll have better protection against leaks and other environmental factors when you update your home's exterior with Damascus Maryland roofing contractors.
Give our gutter installation professionals a call today or contact us online to receive a free estimate on gutter services or siding installations. Let's compare material costs, create a payment plan, and set up a schedule that works for you to get started when you're ready.
How We Got to be a 5-Star Roofing Company in Damascus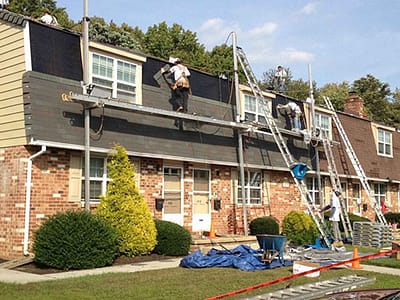 It's easy to get a roof that is perfect for you when you work with our roofing company in Damascus, MD. We have all the qualities covered: roofing materials, siding, and gutters. You'll be able to enjoy enhanced curb appeal and increased home value with our professional roofers taking care of your home from top-to-bottom. We make it as simple as possible so there are no hassles when getting in touch with an expert; just give us a call!
The best thing about our services at Politz Enterprises is how well stocked we are – we want you to be satisfied without any compromises! Our experts will provide helpful recommendations based off of what materials work best with your house style and design, making sure everything looks seamless while also enhancing its beauty like never before.
One call to our roofing contractors in Damascus today and we'll get a free estimate appointment on the books. Tell us what you're looking to get from your exterior home maintenance and we'll make it happen.
See our 5-star reviews from our clients to learn more about how we put customers first and review our FAQ if you any questions about our roofing services.
WHY WORK WITH DAMASCUS MARYLAND ROOFERS FROM POLITZ