Spring Roof Maintenance Tips
The snow has melted, the ice has thawed, and temperatures are slowly rising out of the 30s and into the 50s and 60s. Nothing is more exciting than warm weather after a long winter for Frederick, MD residents, especially those who love the outdoors. Warm weather isn't just about outdoor activities, though, it's about home maintenance for all the local Maryland homeowners, and this includes roof maintenance.
If roof maintenance isn't at the top of your Spring to-do list, it should be. Our Frederick roofing professionals have been called to many jobs where we've helped educate homeowners on how they can improve their roof after the harsh conditions of winter — this not only ensures home comfort and safety but can help expand your roof's lifespan.
Get out your to-do list, jot these roofing maintenance tips down, and move out of Winter and into Spring with confidence. Got something bigger than you can handle on your own? Politz Enterprises is a roofing company located in Frederick, MD and we're available to help Maryland homeowners and business owners tackle their roofing needs with ease.
Note: When conducting these roofing maintenance tips, remember SAFETY FIRST. Professional roofing companies in Frederick, MD are available to help handle seasonal roofing inspections, so do not feel like you must handle roofing maintenance alone.
1) Remove Debris from Your Roof
Winter weather in Maryland is harsh — severe winds, freezing temps, tree limbs encased in ice, and heavy snowfalls. All of this is a recipe for roof debris you don't experience in the other seasons. When it's safe to do so (warm weather, dry roof, low winds) make sure to check your roof for any debris that gathered due to the winter weather and remove it if possible.
This can include fallen tree limbs, large collections of leaves that froze or got trapped in roof gullies, pinecones, and other natural elements. Roofing professionals advise removing roof debris because it can damage the roof when even more severe weather occurs and can jeopardize your roof's safety.
If the debris is too large to remove or you think it caused damage, contact a Maryland roofing company to discuss the problem and receive a free estimate on repairing any roof damages.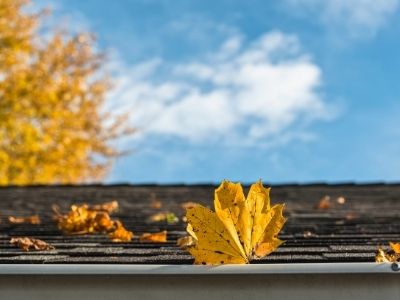 Even if there is no debris currently on your roof you'll want to check for roof damages from debris that may have gotten blown away. If you're near a lot of trees this may include impact damage from frozen tree limbs that fell over the winter season. Roofing companies near Frederick County are familiar with helping homeowners assess tree damage and planning roof repairs after a cold winter.
When in a tree-free area, still check for any roof damage that may have been caused by ice, hail, sleet, winds, and other natural weather elements. Hail and sleet can get mixed in with heavy snowfalls and cause damage you didn't have a chance to check for after the initial storm.
Every season you want to remember to check your roof shingles. Almost every roofing company in Maryland will tell you to check your roof shingles, after Spring, Summer, Fall, and especially Winter. High winds, cold temperatures, and heavy snowfalls mean you'll go weeks if not months where you won't be able to check your roof safely, allowing small damage to go unnoticed and possibly grow into a larger problem.
Once the weather is warm and dry, check your roof shingles carefully — did winter winds cause them to peel or tear away; did ice or hail damage the integrity of your asphalt shingles; did moisture seep into cracks or open spaces? If you notice any of these signs, calling a Maryland roofing professional is important to protect your home's roof against mold or other moisture-related issues that may crop up.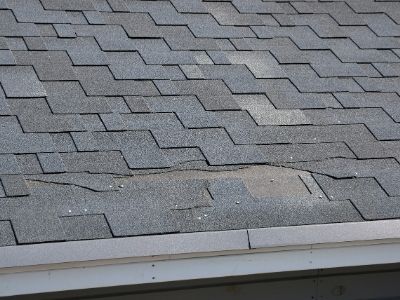 4) Look for Mold or Algae
Melting snow with a compromised roof is the perfect recipe for mold, especially in Maryland. Frederick weather fluctuates between heavy snowfalls and then warm weather, and mold thrives in humid and damp conditions. It may not look like much at first, but you don't want to leave damp spaces on a roof unchecked.
If you fear mold has gotten under your roof or you're not sure how to check for it, a Frederick roofing contractor can help you pinpoint any disaster areas before the issue gets worse. Stop mold before the weather gets warmer and worsens the problem, so inspect for mold carefully or get in touch with a professional who can assist you.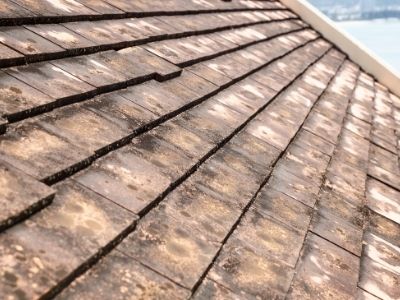 Roofing maintenance extends to the edge of your home as well, and this includes taking proper care of your gutters. Melted snow from the long months of winter can push a lot of debris into your gutters, clogging them and making them ineffective. Before Spring is ushered in with heavy storms and frequent rainfalls, take care of your gutters after winter.
Politz Enterprises is proud to be a roofing company that offers gutter contractors, whether this means handling gutter cleaning or helping with a new gutter installation if the old ones are beyond repair. Touch base with your Frederick roofing and gutter company to schedule a free estimate appointment on gutter replacements.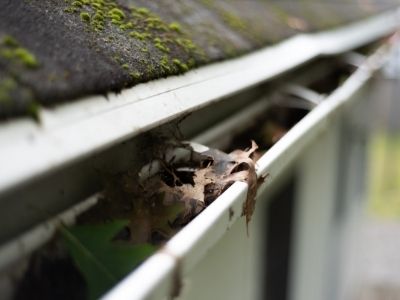 6) Check the Perimeter of Your Home
Checking for signs of roof damage isn't just done from the top of your home — walk the perimeter of your yard to also see signs of roof damage. Strong winds may have blown shingles off, where they will have gathered at the base of your home's foundation. You'll also be able to spot damaged gutters and can check to see if gutter drainage is happening properly.
If there are pockets of puddles around your home or the gutter spouts are showing distress, this could be a signal there is more damage than meets the eye that may have gone unnoticed. Starting on the ground is the right way to know if something more is happening up top.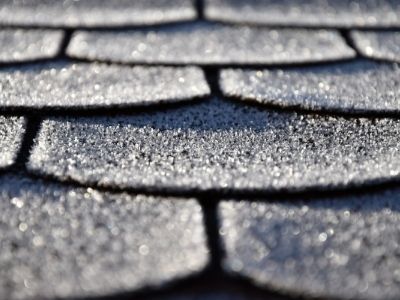 Another place to check for roof damage is within the attic — mold or other moisture issues should be easily spotted when checking your roof internally.
Be thorough and also check for cracks of light, dark spots of mold, or other damage. Even minor leaks can become big issues, so if you think you spot even the slightest speck of roof damage, get in touch with a roofing contractor who can provide insight on the damage you may be facing.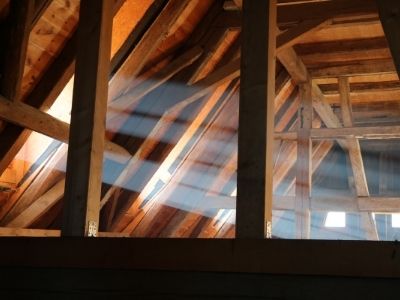 8) Schedule a Roof Inspection
The best way to know your roof has escaped severe winter weather harm is to consult with a local roofing contractor who is experienced in checking Maryland home roofs. A roof inspection can help you better understand any roof repairs you need, what the lifespan of your roof looks like, and if you're looking at a total roof replacement.
Politz Enterprises is proud to offer a free estimate on any work you think you may need, so there is no commitment needed. This ensures a professional, stress-free way to make sure your roof is safe for you and your family.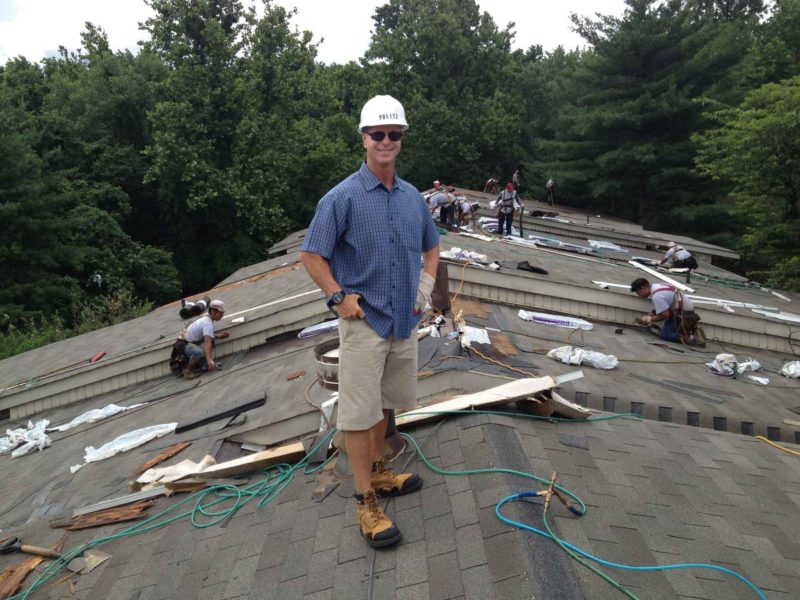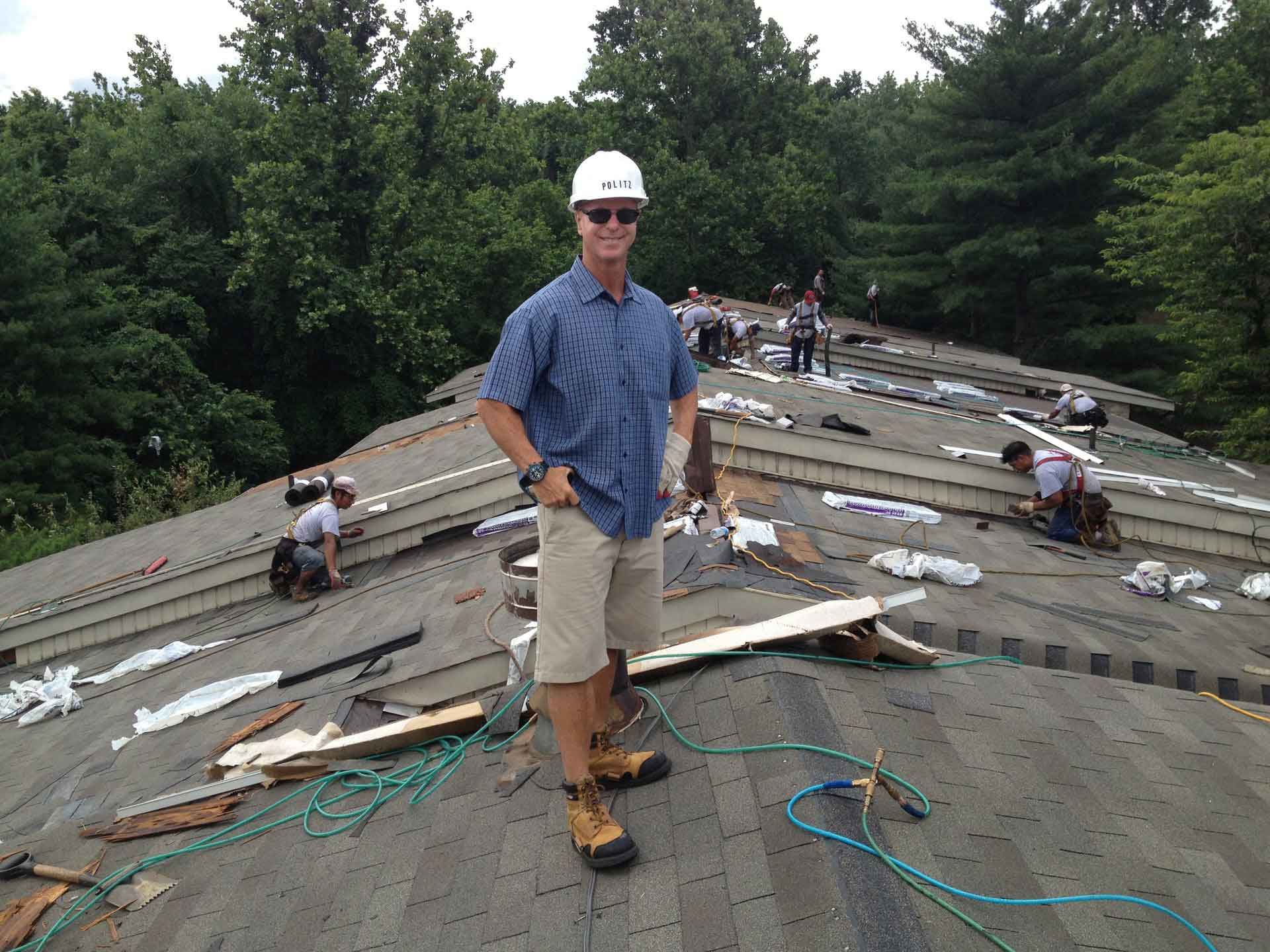 Conclusion
Before you get to enjoying the warm weather of Spring, make sure your home roof is intact and of high quality to handle the incoming warm weather and rainy days. A few simple checks for mold, shingle peeling, and gutter access can make the difference as the warm weather slips in. Whether you do it alone or work with a Frederick roofing contractor, checking on your roof is a task you won't regret undertaking. Be prepared and be ready for warmer days.