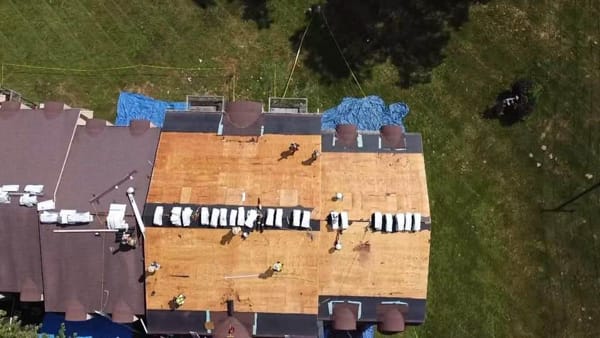 Many regions of the United States are prone to frequent wildfires. Even in consideration of house fires or electrical fires, fire-resistant roofing is something everyone must consider strongly.
If you are looking to replace the roof on your house or are in the middle of building your commercial facility, this is a good time to consider making your roof fire-resistant. But how exactly do you go about it, and what material would prove as the best choice? Let's find out all about fire-resistant roofing types and ratings.
If you are considering fire-resistant roofing for your building or house, it is crucial to know about fire ratings. There are three different ratings that come into play, which are derived after a series of tests. As per the commercial roofing code, they are classified as Classes A, B, and C.
Class A: Found in the Best Fire-Resistant Roofing Materials
This is the highest rating possible for fire-resistant roofing. Class A materials are recommended in areas of the United States that are highly prone to wildfires. Class A materials include clay, metal roofing, shingles, concrete, and materials of the like.
Class B: Materials That are Moderate in Fire-Resistant Roofing
Class B materials are not as fireproof as Class A, but they can withstand moderate exposure to fire. However, in some areas, Class B materials are banned from usage because they are highly combustible. This means that if Class B materials catch fire, the fire will spread really quickly across the area of the material.
Class C: Fire-Resistant Roofing Types That Can Only Withstand Light Fires
As per the commercial roofing code, these materials are not fireproof. They only survive light exposure to fire. Class C roofings include materials such as wood shakes, plywood, and particleboard, which can catch fire upon significant exposure.
4 Fire Resistant Roofing Materials for Commercial Properties
Now that we know about how roofings are rated for their fire resistance, let's find out the different fire-resistant roofing types.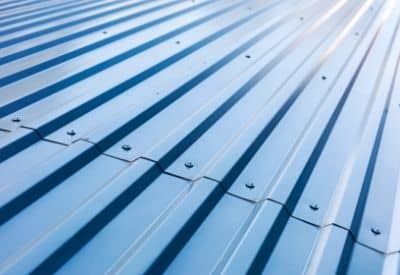 Metal is one of the best fire-resistant roofing materials. They are treated with a fire-resistant barrier which limits them from igniting. Due to the latest innovations, it is possible to purchase metal roofings with the appearance of clay tile or wooden shakes, which also increases the aesthetic value of your building.
Metals such as zinc, copper, aluminum, stainless steel, or tin are used for making metal roofings. Their lifespan is usually 40 to 60 years. Furthermore, the latest metal roofs are non-corrosive.
All these benefits make metal roofings a common roof type among commercial buildings. Especially if you are looking for a fire-resistant flat roof, metal roofings can deliver to your expectations.
Clay and concrete tiles are heavyweight. This increases both their durability and capacity to be fireproof. Clay and concrete again offer a fire-resistant flat roof to your building, making it highly resistant to fire damage. Such tiles are used in Venice building complexes. They come in a variety of appealing colors and styles.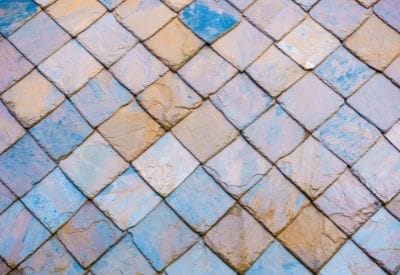 Such roofs have a reputation for being one of the best fire-resistant roofing materials ever made. However, slate and stone are extremely heavy in weight to be installed.
For installation, roof decks first need to be reinforced with braces that can support their weight. In addition, slate is more expensive as compared to other materials. Considering that slate and stone roofs last for more than 100 years, they are not a bad choice if you have the budget for premium roofing.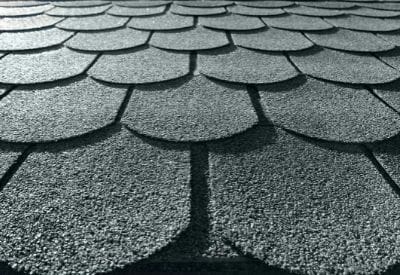 One of the more popular fire-resistant roofing types, asphalt shingles are less expensive. They tend to give a more industrial look, but also fit well for commercial buildings. Asphalt shingle tiles can withstand fires to the very last layer of roofing. This prevents fire from spreading both from outside and within your house.
Factors To Consider For Fire Resistant Roofing
Your roof should not come in the way of the energy efficiency of your building. Several municipalities and cities have implemented policies that are pro-energy efficient buildings.
The cost should not burn a hole in your pocket. First, figure out a budget, and then explore options of fire-resistant roofing that fit the bill. At the same time, also factor in durability and maintenance. While some roofing systems do not have high installation or material costs, they can compromise energy efficiency or demand high maintenance costs.
The weather in your area is another prime factor to consider. Your roofing system should be able to withstand snow, storms, harsh sun, or any other natural force that you see around a lot.
We are a fire-resistant roofing company with the finest knowledge of how roofing works in the East Coast area. If you are looking for an effective and long-lasting roofing fix for your commercial building, we are happy to offer our services.