Gutter Systems in Frederick, MD
Protect Your Home and Yard with Our Gutter Systems Experts
The functionality and property safety of proper gutter cannot be understated. We are the Frederick, MD gutter systems experts because we understand the important work a gutter system does for your home and yard.
People may think that install gutter systems to their home only redirects water that would otherwise collect at the edge of their roof, but the diversion of water, and doing so properly, is key for home protection, and if you're doing it wrong, the side effects can be damaging.
Gutter systems also come in a variety of styles, colors, and materials, to match your home's current color palette and can enhance curb appeal and resale value. Trust us as your gutter company, and talk to us about a free consult today to see what a gutter service can do for you, your home, and the value of your property.
Trusted Gutter Contractors
Looking for Trusted Gutter Contractors Near Frederick, MD?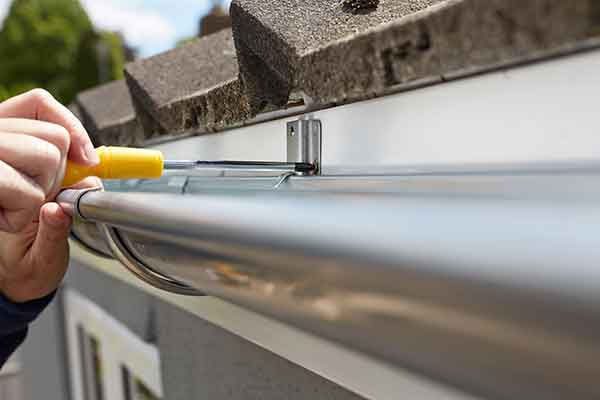 Politz Enterprises has been a family owned and operated company for over 50 years, serving our neighbors in the Frederick, MD  community.
We are backed by an A+ rating with the Better Business Bureau, meaning we don't just offer the best products of any of the gutter system service companies, we also have the team of highly skilled and trusted employees to provide you satisfaction guaranteed customer service on any job.
It is our knowledge of how and why gutters improve a home that make us your one-stop destination. Our Roofing, gutter and siding installation works together for seamless home protection and the best curb appeal on your block.
What We Offer for Gutter System Services in Frederick, MD?
If you think gutter systems are only spouts that come in white and pour water into a corner of your home, you are mistaken.
There are a variety of options for colors, styles, and materials for our gutter systems in Frederick, MD, including:
Aluminum or copper products
K-style
Half-round
Encased
Low maintenance gutter screens and covers
A variety of colors to match your home
What a Gutter Installation Does for Your Home
A proper gutter installation does more than redirect rainwater. It should prevent mold, keep you and your home dry, prevent insects and mosquitoes, dispel stagnant water, and protect your yard, landscaping, and home foundation.
If you're not using a gutter system in Frederick, MD, then where is all of your water going? Chances are because it is not being directed towards a sloping part of your perimeter with a gutter installation, it is pooling in your yard and around the edges of your house.
Pooling water can erode soil and eventually cause foundation damage. If the water is pooling in a humid area, it can also be creating mold that can go undetected.
Insects, especially mosquitoes, are also attracted to areas of pooled, stagnant water. Puddles may be collecting throughout areas of your yard, and in the summer months, these become the perfect grounds for insects to collect.
Why We are the Frederick MD Gutter Experts
Just because anyone can complete a gutter systems does not mean that just anyone should. Knowing how to direct the water coming off of your house is just as important as supplying the proper materials.
If a gutter installation is completed improperly, water can begin pooling in one area, just like what you were trying to prevent by having a gutter installation completed in the first place.
When gutter contractors don't properly plan out the map of your yard for the best water distribution, the water pooling can be much worse. A gutter that only redirects the water to the edge of your home can create foundation problems you may be unaware of.
Gutter companies should also be looking at any other pooling areas throughout the yard that the gutters may be redirecting to – gutter system should create a flow away and out of the yard, not just further away.
Politz Enterprises knows to look for all of these slopes and directions, so you're not just pushing water away but diverting it out and away from your protected home.
Boost the Curb Appeal of Your Home with Gutter System Discounts
Our team of highly skilled professionals will recommend the best products and style options to install onto your home, not just for protection but for enhanced curb appeal. Just like our roofing services can create a higher resale value, so can our gutter system services. It is the perfect combination of trusted safety preventions and a beautiful pop of style.
Because we are here to support our Frederick, MD community, we also offer a variety of discounts and special prices. Proof-verified active military and veterans receive discounts, as well as senior citizens ages 65 and over.
Talk to us about free estimates, or schedule your free consultation for your gutter service today. It is never a bad time to prevent pooling water from damaging the land you own and take pride in.