Roof Repair and Roof Replacement in Frederick, MD
Roof replacements in Frederick, MD can be understandably pricey, between the labor, materials, cost of clean-up, and more. That is often why roof repair solutions can be an enticing option for homeowners, because they are initially cheaper in the short run and can buy the owner a few more years with their roof before an entire replacement is needed.
Whether you are dealing with needing a repair for a roof leak or stripping and replacing an entire roof for a roof replacement, there are pros and cons to both choices. We've broken down some primary considerations you should make when weighing the two options for your home.
Pros of a Roof Replacement in Frederick MD
A roof replacement provides you with a stable roof that is up to industry standards (when completed by a professional roofing company). This increases the curb appeal of the home and the overall value of the home, which can be highly important if selling the home within the next few years.
A roof replacement grants you the opportunity to choose which materials and style you want to use, in case you want to change the overlook or function of your roof.
The advances in technology and industry standards has made a big difference in roof replacements. A new roof comes with a guarantee and sometimes a warranty that will last for years, giving you added security when it comes to stability, protection, and even energy savings. When it comes to roof replacement your options for materials include asphalt, cedar shake, slate, plastic roof tiles, clay and metal.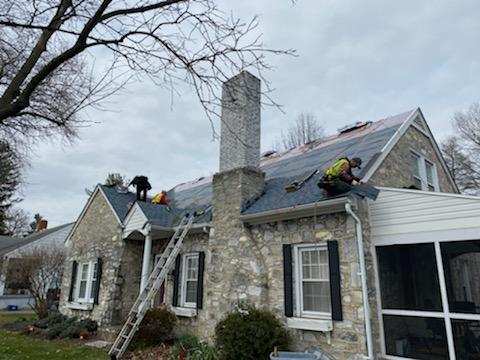 Cons of Roof Replacements
The cost of an entire roof replacement can be quite expensive. Even though a DIY job can be tempting, the cost of materials alone can make the job costly. Factoring in insurance rates, labor, and clean-up costs that come with an insured company, the cost can sometimes cause sticker shock.
Not all roofing companies offer financing options. Although many professional roof replacement companies will work with you, sometimes the interest rate can be steep, making the long-term cost much higher than anticipated.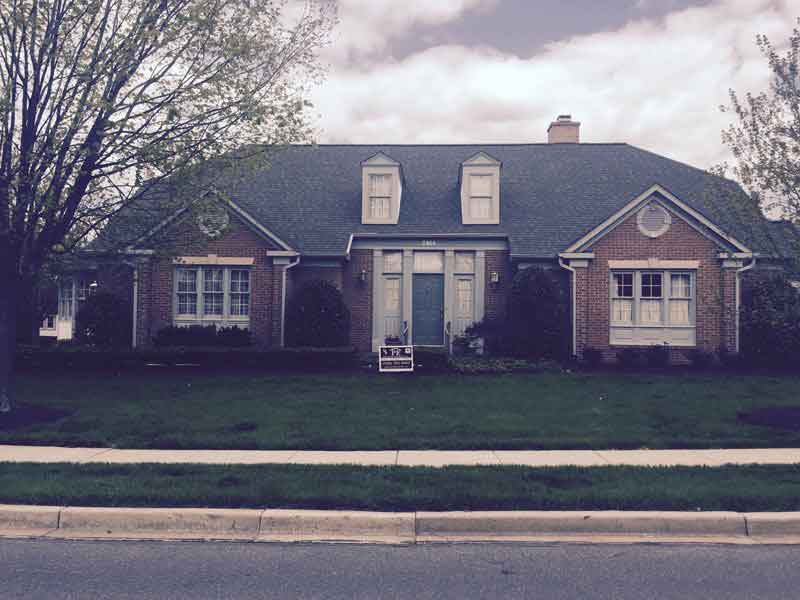 Pros of Roof Repairs in Frederick, MD
The cost of a roof repair in Frederick, MD is significantly lower than the cost of a roof replacement. A homeowner can often pay for repairs out of pocket rather than having to finance the work and pay off the interest rate as well as the initial sum.
Roof repairs can go fairly quickly once the damage has been assessed. Repairing a roof leak can sometimes be done in only a few hours, and requires much less labor and clean-up.
Because the amount of work is less for a roof repair, there is often less noise, meaning less disturbances if you're staying home while the job is being completed. This means you don't need to worry about excessive noise interrupting your work, disturbing your pets, or any other similar issues.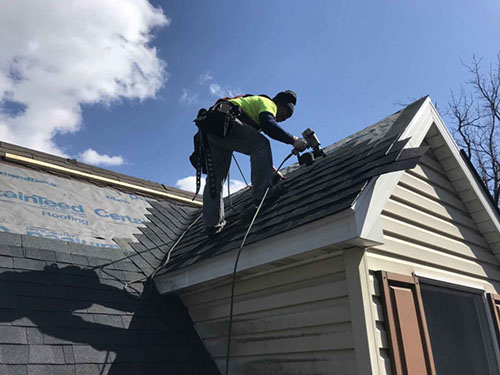 Cons of Opting for Roof Repair Solutions
Choosing roof repairs before knowing the extent of the damage can result is more problems being discovered along the way. This can extend the deadline, increase costs, or even result in the need for an entire roof replacement anyway.
Oftentimes, roof repair solutions are only a temporary fix, not a long-term solution. One way or another, a roof replacement is bound to be the final solution, whether in a few months or a few years. Roof repair is more or less a bandage being affixed to a problem that will eventually need to be addressed in full, so your long term costs can end up being more if you only choose to stall with a roof repair over an entire replacement.
The curb appeal of a home is bound to go down with roof repairs as opposed to roof replacements, due to the look of new shingles, shakes, or tiles being installed that may clash with the existing layout. Materials that have been in place for years will look quite different than those that have just been applied, thereby giving the home a patchwork appearance that is difficult to explain to prospective buyers. Buyers will also question the lifespan of the roof if repairs have been done sporadically over the years.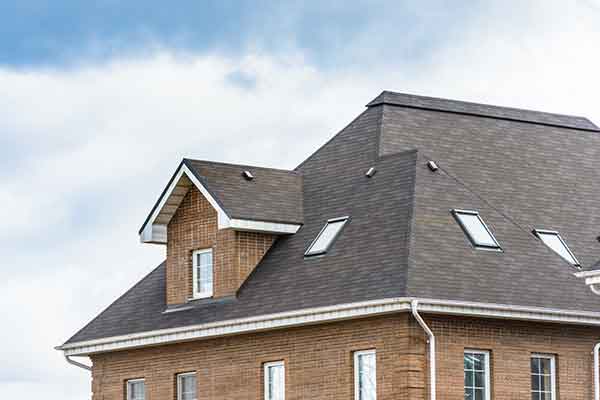 Repairing a Roof Leak vs an Entire Roof Replacement
The option of repairing a roof is typically the best option for those that are low on funds, since it won't always require a homeowner to finance and suffer the high-interest rates that typically become a huge issue when paying for the job of a roof replacement. There's also the risk as to whether a homeowner can be approved for financing, and if not, it can result in DIY replacements or repairs that often don't hold up as long as a professional's work will.
There are a few things you can do to alleviate the issue and stress of whether you need to make roof repairs or a complete roof replacement. These tips will help you make the best decision for your home and your finances.
Get a Free Estimate from Several Roofing Companies in Frederick, MD
There are a few companies that specialize in roof replacement in Frederick, MD, and you can consult with them all before making a final decision on what you want to do. Be smart and call a few of them to see if you can get a free estimate for what you need. Compare quotes and services before making a decision, and see if more of them suggest a roof repair over a roof replacement and why.
Assess the Damage from the Roof Leak or Roof Damage
How bad is the damage? If the entire roof is compromised then it's time to call a roofer. But if it's a patch here and there and nothing structural, then it might be possible to do it on your own or ask for help from a family member. Remember, though, that sometimes you may find more issues which will require you to call a professional roofing contractor anyway.
Expand Your Expert Roofer Search
Don't just google roofers around Frederick, MD, but utilize other networks. Talk to friends, family, and neighbors about who they have used in the past. Always check reviews and references to make sure who you're working with is reputable and trustworthy.
Wrapping Up
Roof replacement is quite expensive but worthwhile once it's done, while roof repair can fix a problem temporarily until a homeowner finds the needed funds. Do your research, gather quotes, and then make your decision accordingly. There are pros and cons for each option, and a time and place for each part of the job.