Tips to Prepare for Your Roof Replacement in Maryland
When it's time to get your roof replaced in Maryland, it can feel like a daunting task. Roof installations can be costly, and oftentimes it's easier to put off the roof replacement for another year, citing one reason or another.
Putting off a roof replacement can be risky, however — you open yourself up to possible leaks, higher energy costs, and structural damage if a problem goes left uncorrected. Once your roof has reached its lifespan — the average of which is around 20 years — or you notice damage, it's time to call a roof installation company in Maryland and get a plan in place for a better roof replacement.
We've put together the total guide to preparing for your roof replacement in Maryland. As local Frederick, MD roofing professionals who do roof replacements in several Maryland counties, our goal is to educate our clients on all aspects of a roofing job so they can feel confident and prepared moving forward with any roofing repairs or roof installations.
We cover everything in this roofing guide from why it's important to invest in reputable roofers (instead of a DIY option) to how to ensure you're hiring the right Maryland roofing company for the job. We've even put together tips to prepare your home, family, and pets for the work once it gets started, and how to be sure the work is protected in the following years. When you're ready, contact your local roofing professionals to ask questions, receive a free estimate, and get started.
1) First Things First: Why a New Roof Installation in Maryland Matters
Before you begin contacting roofers in Frederick, MD or inspecting your own roof for damages, it's important to know just why a new roof is so vital to your home. This will help you understand the need to contact the right roofing company, the overall cost, and how to ensure you're selecting the right roofing design for your home's needs.
Roofs are the first line of defense for a house against the elements. Without a professionally installed roof with experienced roofers, you risk
Water Damage
Mold
Wind Damage
Low Energy Efficiency
Shortened Roof Lifespan
And more
A roof should be able to stand up against high winds without peeling shingles; it should stop all water or moisture from getting into the house; it should withstand standard tree branches and other debris. A quality new roof matters because sometimes roof repairs don't protect against all potential damages, and you want to ensure your home is safe and protected from all of the elements at all times.
A new roof also matters because of home value, resale, and curb appeal. Your roof is easily visible from the street, and it's pretty easy to tell if someone invested in a cheap roof. Peeling shingles, mismatched colors, greenery, and more on your roof can all lower your home's value (and put the home at risk for leaks, mold, and other issues). A roof impacts your resale value and the overall quality of your neighborhood due to curb appeal. Investing in the right roof is about investing in your future.
Weighing the Cost of Frederick, MD Roofing Professionals vs DIY Roof Installation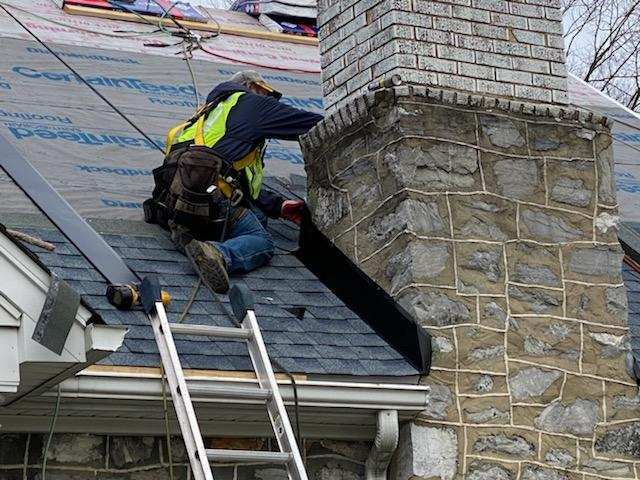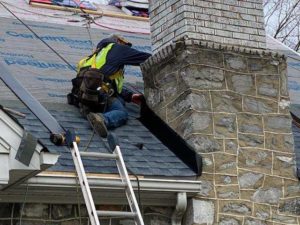 Wanting to repair or install your new roof yourself can be a very tempting idea. Hiring a professional roofing company for a new roof installation often requires financing, and many homeowners either aren't prepared or aren't willing to spend the money for a professional roofer.
While plenty of DIY roofing tutorials are out there and are easy enough to understand, a DIY roof installation can have unintended consequences that could cost a lot more money and time down the line.
The risks of a DIY Roof Installation can include
Shortened roof lifespan, sometimes by 50% (10 years vs 20 years)
Decrease in home value
Unseen leaks or mold growth
Peeling shingles
Missing shingles, removed by wind, weather, or lack of proper sealant
A professional roofing company in Silver Spring, MD or other surrounding Maryland counties will always begin the job with a free estimate, before a contract is even signed. This is because professional roofers want to ensure they won't be installing a new roof on top of faulty or damaged materials. The first step to the new roof replacement is understanding what components of the roof may have been compromised and need rebuilt entirely.
When opting for a DIY roof installation, you are forgoing a professional roof inspection and the expert eyes that come with it. Although you can spot major damage and obvious weak points in the roof, professional roofers have years of experience noticing subtleties in roofing materials and helping to stop damage before it happens.
Professional roofers also have access to appropriate materials, tools, and insurance policies. Although you can buy shingles from your local hardware store and can rent the right tools if you don't own them, you may not be getting the best quality. Roofers have access to wholesale materials, ensuring the best quality at the best price. They're also able to recommend the right roofing materials for you based on the debris risk in your yard, local weather, and more.
What is most important is that roofers have insurance and warranties. They are protected in case someone gets damaged on the job, if other property is damaged (like the house or cars) and they offer warranties on their installations. With a do-it-yourself roof installation, you risk added expenses if other property is damaged, an injury occurs, or something goes wrong with the roof installation and an extreme accident happens. You don't want to attempt to save money on a DIY roof installation only to risk a major injury or have unexpected weather blow through and cause damage during the installation.
The most common problem with DIY roof installations is the shortened roof lifespan. Professional roofers throughout Frederick County, MD install roofs that are intended to last their 20 years. Your DIY roof may only last 10 years, requiring you to repeat the process in a few short years instead of two decades later. Additionally, if you plan on selling your home, a DIY roof can lower your home's value — homebuyers pay more for a professional new roof they can count on.
Understanding the Cost of a New Roof in Maryland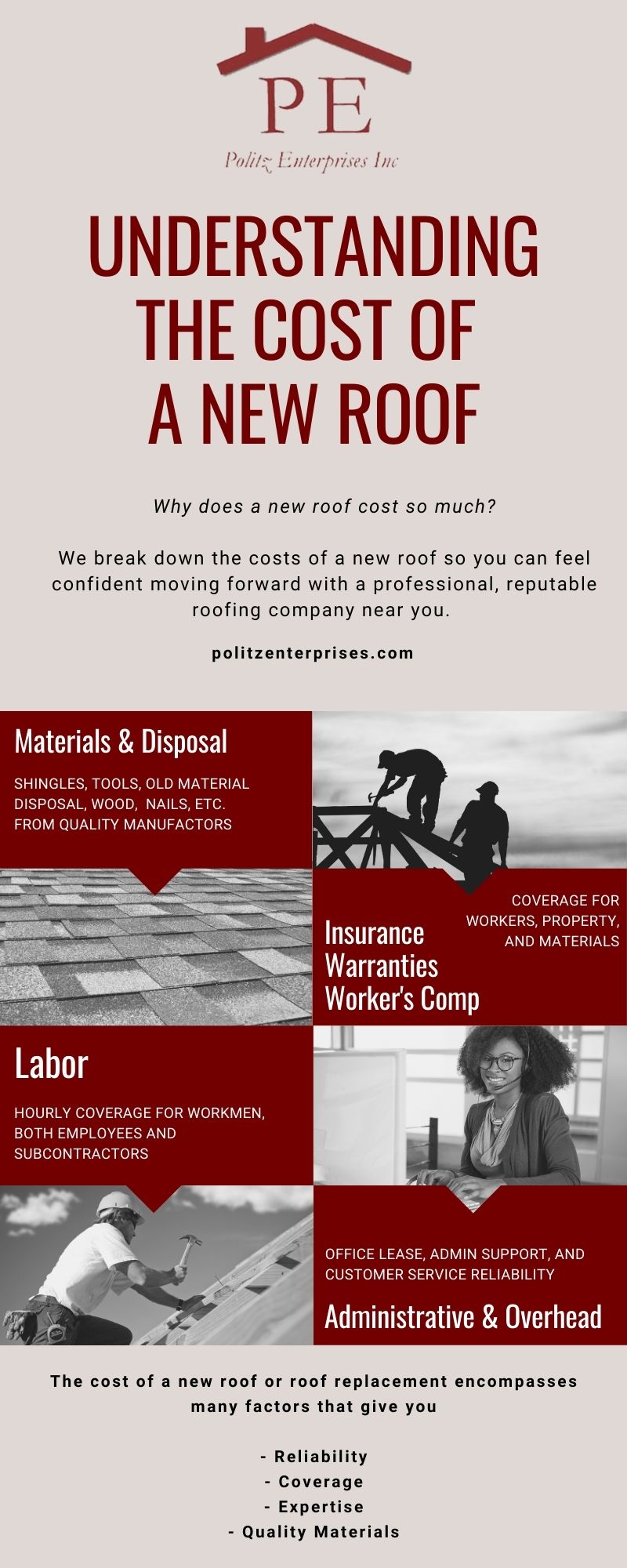 So why does a new roof cost so much? Somehow, it never seems like it should be as much as it is. Roofing, however, has a lot of expenses and cost factors that don't seem evident at first until you do a dive into what all goes into a roofing project, installation, or repair.
Right off the bat, you have the cost of materials. Quality roofers like to ensure they use quality materials, for a long-lasting roof installation that provides secure weather protection. The materials your roofer uses will not always be the materials you can get from your local hardware store, which is why the cost estimate won't always be equal.
Your roofer's estimate will also include the cost of disposing of all the old roofing materials. Think about the weight and the number of old shingles that need to be removed and then disposed of — your roofer has already factored this in for easy disposal and clean up.
A Maryland roofing company will also need to cover the price of labor, insurance, worker's comp coverage, warranties, and more. A professional roofing company has overhead expenses they need to cover, all of which bring you better service — a roofing company with a dedicated administrative staff, office, and reliable insurance coverage provides you better customer service and longer-lasting protection.
Estimating the cost of a new roof is not just about comparing the cost of materials at your local hardware store against the square footage of your home, it is about protection, quality, and additional benefits that keep you protected for longer.
2) How Do You Know You Need a Roof Replacement?
It can be tricky to know when you need a roof replacement, besides major damage occurring. If you don't get up on your roof too often, it can be hard to remember to do an annual inspection to check for signs of roof age or damage. You may have a "leave it and wait" attitude, assuming that as long as nothing is leaking, your roof is fine. This can be risky, however, and opens you up to major damage you don't see coming.
Don't wait for a major accident — like a storm, leaks, or other damage — to be what prompts you to check on your roof. Do an annual roof inspection both inside and outside your home to look for signs of roof damage, so you can stay ahead of any accidents and can call a professional roofer in Howard County before you need them, not after.
The Homeowner's Guide to Checking for Roof Damage

Age
What's the age of your roof? Roofs last, on average, between 20 – 25 years. Different materials can range with their lifespans, but a couple of decades is the general rule of thumb. Consult your records to determine the age of your roof, and if you're past 20 years, consult with a local professional roofing company about your plan for the next few years. If your roof was installed before you bought the home and it looks like it may be a DIY job, call a professional roofer in Montgomery County around 10 or 15 years to be safe.

Curled Shingles
Inspect the shingles on your roof — are they curled? Curling shingles indicate problems under the shingles, which can put you at risk of leaks or other damage. Curled shingles are also more likely to get ripped away by high Maryland winds. Although you may feel an impulse to replace curled shingles yourself, a professional roofing company will be able to give you a better idea of the underlying condition during a free roof estimate. Sometimes, curling shingles are an indicator that the roof was installed improperly, and you will need an entire roof replacement vs a roof repair.

Missing Shingles
Do you notice spots on your roof that are missing shingles entirely? This is bad news. Missing shingles allows moisture to get into your home, and you risk damage occurring directly on materials that support the structural integrity of your home. Don't just replace these shingles and move on — something caused the shingles to tear away in the first place. Although the weather may be a cause, missing shingles could indicate shoddy workmanship, which means other areas of your roof may be at risk, even if they aren't showing signs of damage yet.

Leaks or Sunlight in the Attic
Move inside and check out your attic or crawl space directly under the roof. If you can see sunlight coming in, or spots of moisture, this is a sign your roof is compromised. These areas left unresolved leave you at risk for mold, water damage, and structural damage. Your attic should be sealed against all light and moisture if your roof is functioning properly. Call a roofer ASAP if you can see light through your roof indoors.

Flashing Status
The flashing around your chimney or other areas of the roof should be secure. If you see these areas peeling up, cracking, or showing other signs of damage, you may be in need of roof repairs. The flashing needs to be properly sealed against moisture and other natural concerns. As with missing and peeling shingles, compromised flashing could be an indicator of larger problems that occurred during the roof installation.

Sags
Any spot on your roof that is sagging is a definite sign that you're in need of a roof replacement. Sagging indicates moisture or other damage under the shingles that is compromising the stability of your roof. Sagging spots in a roof can break or leak suddenly, turning an already risky situation into a more serious one.

Moss on the Roof
Are plants growing on your roof or out from under your shingles? They shouldn't be. Plants thrive where there is moisture, and greenery on your roof means moisture is collecting in areas it should not. Check every now and again that plants have not taken up residence on your roof or under your shingles. Once you spot them, give a roofing professional a call to investigate what caused the moisture collection and how to stop it.

Check Your Gutters
Sometimes your shingles will begin falling apart without obvious signs. If shingle fragments are in your gutter, this means your shingles are slowly eroding or cracking during harsh weather. Once your shingles begin to go, the rest of your roof is at risk. Do yourself a favor and inspect what is collecting in your gutters or on your gutter guard shields so you can be aware if your roof is experiencing slowly evolving damage.

Roof Valley Integrity
Some roofs have several peaks and placements, and these come together to form valleys across the roof. Valleys are where you want to check for roof damage first, because water, debris, and wind are all pushed into these crossroads and your roof will show signs of damage here first. If your valleys are starting to see damage or wear and tear, you may be in need of a roof replacement.

Increase in Energy Bills
An increase in your energy bill is not a foolproof way to determine you need a new roof, but it's a good place to begin. Roofs help insulate your home, and if your energy bills are rising, your roof may not be sealed or as insulated as it was when it was first installed. Check your bills and if you notice a rise, check out your roof first.
3) Finding the Right Roofing Company Near You
Hiring the right Montgomery County roofing company to do your roof replacement is vital. Anyone can market themselves as a roofer or claim they have the best workmen for the job, but do they really? Hiring a company that isn't reputable or doesn't do quality work can open up homeowners to a lot of stress, whether it's next week or next year.
To ensure you spend your money in the right place, here are a few suggestions to ensure you're hiring a trustworthy Maryland roofing company near you.
Roofer Reviews
Almost every "how to hire a roofer" guide covers this, but we want to reinforce the fact that reviews and recommendations are your top way to determine the quality of a company you are considering working with. Google, Yelp, and other websites all break down reviews, and you can filter by date, stars, pros, cons, etc.
Remember to take in the whole of reviews, not just a section — just like you wouldn't trust only positive reviews, don't listen to only the negative reviews, either. Look at recent reviews, look at the sum of their work, and check to see if the company responded publicly to any negative complaints in an attempt to fix the situation. A roofing company's reviews can tell you a lot about their quality of work and customer service overall.
Insured and Licensed
Any Maryland roofers you hire should be insured. Ask for a copy or proof of their insurance, as well as their license number, before you sign a contract with them. This is because accidents do happen on job sites, whether they're through the fault of the roofer or just circumstance. If and when this occurs, you want to know you won't be held responsible for the accident, and paying for any damages or injuries won't fall on you as a homeowner.
A roofer having insurance, worker's comp coverage, and a professional license ensures you and your investment are protected in case anything goes awry.
Experience is Key
You also want to ensure your Columbia, MD roofers have relevant experience. It's true that everyone has to start somewhere, but you shouldn't be hiring a company that consists entirely of new roofers. A reputable company will have experienced roofers who have the proper knowledge for the job, with maybe a few apprentices or new roofers learning from the experienced crewmen. Ask or review the portfolio to see if they've worked on homes like yours, have experience with your issues, and know how to install the material you're requesting.
Customer Service Should be A+
Customer service matters when you're looking to hire a roofing company for a roof installation, or any contractor for that matter. Although workmanship is the top priority, you want a company that responds to you if and when problems arise.
Companies that offer warranties or protections but lack in customer service can create a headache for the homeowner if they ever try to redeem the offer. Make sure you work with a company that responds on time, listens to your requests, acts professional, and is always easy to get in touch with. Reliable customer service can lead to timely resolutions later.
Questions to Ask Your Frederick Roofers Before the Work Begins
What Insurance Coverage Do They Have
Once you receive the estimate and feel comfortable with the cost, you want to finish up by asking a few last questions of your roofing contractor. One of those questions should pertain to their insurance coverage. Does the roofing company have general liability coverage? What about workman's compensation?
While you may not think that any accident that occurs during the job should affect you, it can if the company is not properly insured. A major injury or accident without proper coverage could have an employee arguing that you, the homeowner, are at a fault. Avoid the risk with a simple question about your roofing company's insurance coverage.
Will Employees Complete the Work or Subcontractors
This may seem like a question a homeowner or business owner doesn't need to ask, but this is information you want from your Maryland roofing company. The reason being that if your roofing company uses subcontractors over employees, you need to request copies of their license, insurance, and experience, as well.
A roofing company may have a core group of employees and then subcontract out other jobs, especially during busier, peak seasons. You always want to know who is working on your roof, their relationship with the roofing company, and who has insurance. A roofing company's insurance won't cover a subcontractor, and you need to ensure you are protected in case an accident occurs.
Just because a roofing company uses subcontractors doesn't mean you need another roofing company in Maryland, but it will require some follow up questions and document verification. You also want to be sure the subcontractors are experienced, reputable, and honest.
Will the Owner Be Onsite, and When
While the new roof installation is being completed on your home or business, it's good to know who the lead is for the company on-site. Sometimes a roofing company will only send out the working crew, and you won't have someone on-site that you've worked with before. Other Maryland roofing companies have an onsite manager or even the owner who oversees the work.
For larger roofing jobs especially, make sure you know who your point of contact is within the Montgomery County roofing company. This will help if you have questions, concerns, or you see something that looks like it's going in a different direction than what you discussed. While the crewman can provide basic answers, you want someone familiar with you and your requests to help clarify any issues that may arise.
Get to Know Your Primary Contact
Similar to knowing if the owner or a manager will be on-site, you want to know who your primary point of contact is. Will you call the office every time you have a concern, or will there be a project manager you'll be in touch with, instead. Get the name, number, and email of the person who will help you out during the length of your project, and even after it's completed. This will help you send payments, follow-up on work, and get warranty information without a run-around.
Weather Preparation
Ask your roofing company in Silver Spring, MD what they do for weather protection. Having your roof in pieces when an unexpected storm blows in is not something you want them handling on the fly. Make sure that if the job is delayed for any reason, or strong winds or rain come in, they have a confirmed method of concealing the open sections to protect against weather damage.
4) What a Free Roofing Estimate Should Include
After you've narrowed your roofing company search down to a few possibilities, it's time to request some free estimates. Make sure you get at least two, although three to four is better so you have a better idea of the average recommendation for your job.
Don't just hire the first roofing company you meet with, even if they seem to check all of the boxes. Let them know you'll be in touch, and meet with a second company to be sure of your initial first impressions.
While you're meeting with companies and getting free roofing estimates for the job, this is your chance to ask questions about the company. Take advantage of this time to be sure the roofer is competent, responsible, and trustworthy. The free estimate is both so they can understand the job and so you can get to know them.
Here's both what the free roofing estimate should cover and what questions you should ask the Silver Spring roofers before you sign a contract.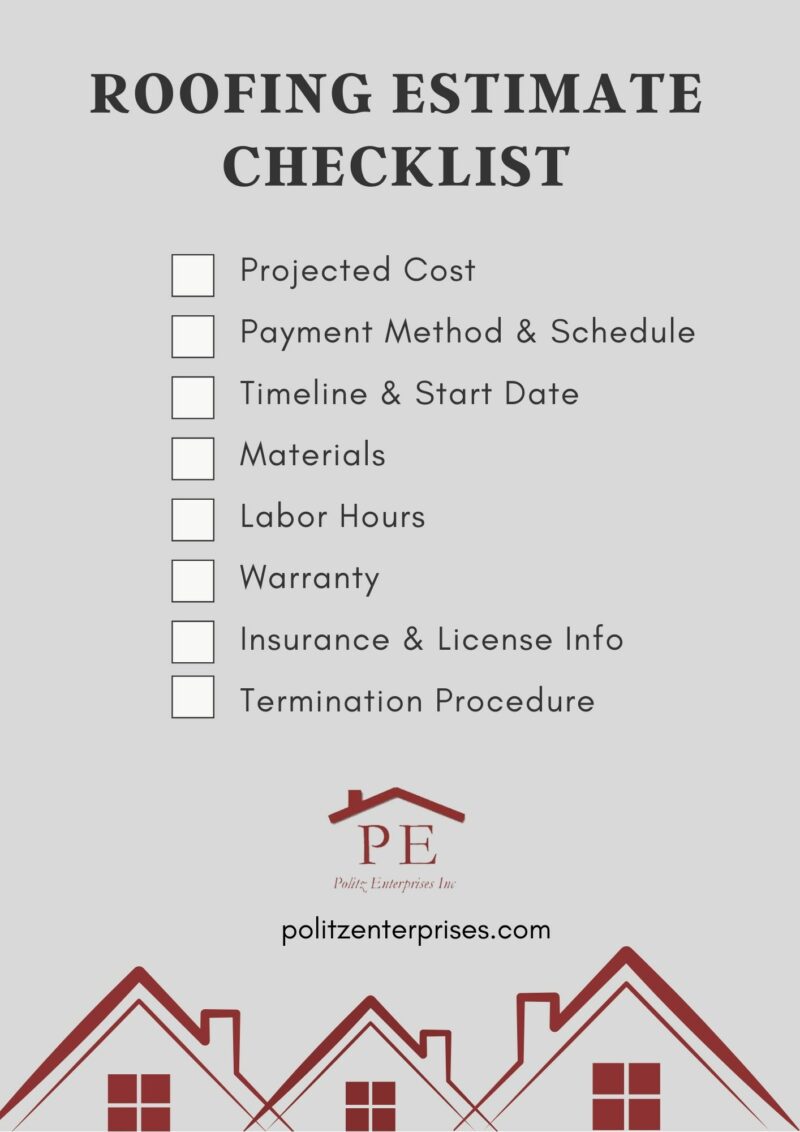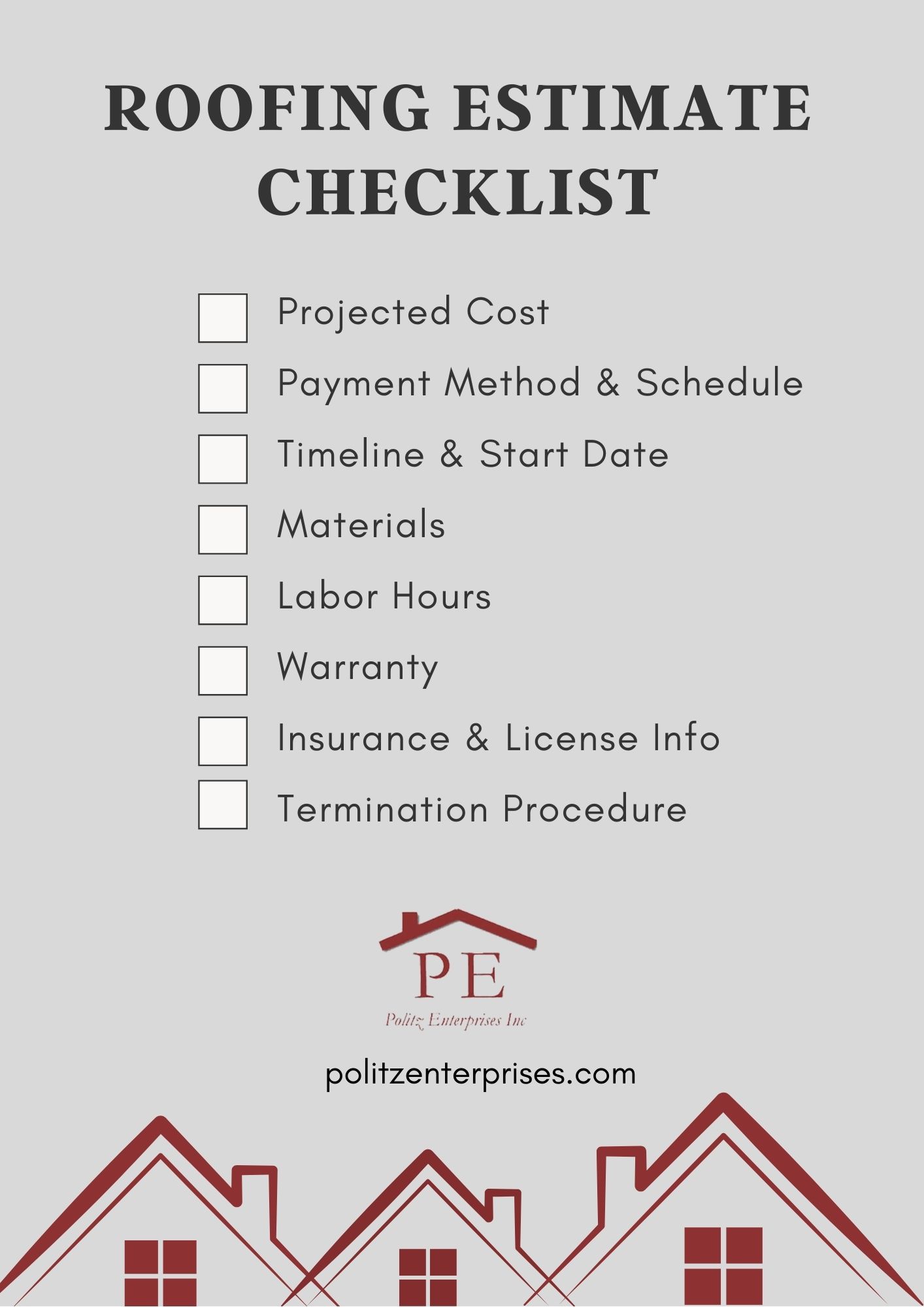 5) Questions to Ask Your Roofer During a Free Roofing Estimate Inspection
Inquire About the Payment Method and Schedule
The free estimate from the Maryland roofing company should give you the projected cost of the project, but it should also include how you pay and when you pay. Knowing this information is important both if you're using financing or if you're planning to pay out of pocket.
There are generally three payments – the first one before the work begins, a second payment when the work is halfway completed, and then a final payment. If your roofing job can be done in one day, however, there may only be two payments, or just one.
Make sure you know what amounts you'll need to have and when, and make sure the payment method works for you and has a paper trail. Paying in cash is risky, because there is no confirmation method for you to prove payment. Always pay in a way that can be verified later, just in case.
After the Roofing Estimate, You Should Know the Project Timeline
For both residential homes and commercial properties, you want to know the timeline for the work being completed. Whether it takes one day or one week, you need to know when to prep, what to expect, and if you need to be around. You also should know when the crew plans to start. Are the roofers busy with other projects for the next month, or can they begin next week? This is all information they should provide at the end of the initial estimate.
What Materials Will Be Used
The roofing estimate should outline all materials that will be used for the roof replacement. This includes shingles, wood, etc. Make sure the estimate outlines exactly the items you selected, including size and color.
The Number of Expected Labor Hours
As the estimated cost is based on both materials and labor hours, the estimate should outline how long the work is expected to take. This should include onsite prep, removing the old roof, and installing the new roof. Seeing the labor hours outlined should also help you understand the overall cost and timeline of the job.
Warranty
Does your new roof installation in Maryland come with a warranty, or are you purchasing one? Your estimate should reflect any standard or extended roofing warranties that you opt for. This is to help you understand both how long your investment is covered for and can help you decide if you want to choose an extended warranty or lifetime warranty. Some warranties cover labor while others cover materials so be sure to understand exactly what your warranty coverage is for your new roof in Frederick, MD.
Insurance and License Info
Sometimes, you may need to ask for a copy or proof of insurance and a professional license, but these should also be included in the estimate. This way you can look up your roofing contractor if need be, and can verify their information for coverage and protection.
Add-Ons
Not every estimate will include this information, but it's always wise to inquire about it. There should be an add-on section for options you may be on the fence about, and options in case something goes wrong. For instance, if you think you're in store for a normal roof replacement, but then the roofers discover a massive leak that needs to be repaired. It's always wise to plan and have a rough estimate for unexpected circumstances.
Termination Process and Understanding
Included with your free roofing estimate is often a contract for you to look over and sign when you decide to go with a Columbia, MD roofing company. The contract should include the process for termination, by either party. This is critical information to have. Terminating a roofing project before its completion has a lot of details that need to be legally handled, like costs for the materials and labor, responsibilities, and more. Be sure to understand your rights and the company's rights in case the project needs to be canceled before it is completed.
6) Understand Your Roofing Options in Maryland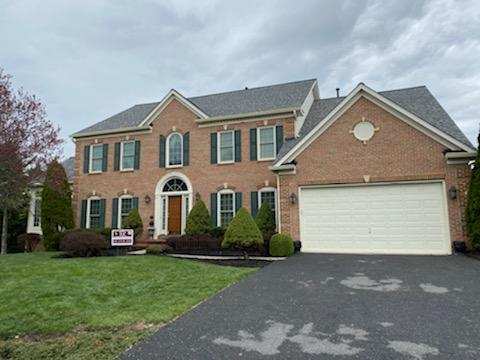 Local Maryland roofing companies are fantastic to work with because they can help you understand what roofing options are available for your home or business. This can include style, color, and ultimate design.
If you're not familiar with roofing, you may expect a selection of shingles in various greys or black, which you may not think matters. A quality and experienced roofing company, however, will help you consider the color of neighboring roofs, the color of your home, and how to boost your curb appeal with your roof installation. They'll also consider what is best for energy efficiency, debris protection, and more. Professional Montgomery County roofers consider your budget, the longevity of each material, and the overall look to help you decide how to proceed.
Most Popular Roofing Choice: Asphalt Shingles
Asphalt shingles are the most popular roofing material by homeowners and business owners. Asphalt shingles are affordable and range in both size and color, so no matter what look you are going for, you can probably achieve it with asphalt shingles. These are an economical and widely requested choice for most roof replacements in Maryland.
Considering Metal Sheet Roofing
Metal roofing is quickly gaining popularity in Maryland for its look and versatility. Metal roofing is extremely durable, comes in a variety of shapes, colors, and sizes, handles strong winds with ease, is fire resistant, and is light and easy to install. Metal roofing, however, comes with a much higher upfront cost versus traditional options like asphalt shingles.
Slate Shingles
Slate isn't a roofing option for everyone, but it's worth it to note it in case you've ever been curious about slate roofing. Slate is aesthetically appealing, can last up to a century, is durable and insulating against all weather especially cold temperatures, fire-resistant, and very tough. Slate, however, is the most expensive roofing option — it is very labor-intensive and costly to acquire. Some homes may not even be able to withstand the weight of slate, which is why it is not commonly used.
Wood and Cedar Roofing Options
Cedar roofing is a great option when you want to go one step beyond asphalt shingles but you're not interested in the investment of slate roofing. Cedar roofing is environmentally friendly, can last upwards of 30 to 50 years, and looks incredible. Due to its natural material, cedar weathers beautifully and gives a roof a unique look. It costs more than asphalt roofing but isn't the most expensive roofing option in Maryland. Cedar roofing comes in a few different options for shapes and sizes, so you can pick from a variety of looks. Cedar roofing can require more maintenance, however, and is best used in dryer climates.
7) How to Prepare for a New Roof Installation in Silver Spring, Maryland
You've researched your roofer, gotten a fair estimate, asked your questions, and picked out your roofing materials, and are ready to forge ahead. Now you need to prepare your home or business for the work.
Preparing your home or business for a roofing crew in Maryland doesn't require a lot of work, but there are some important steps you will want to take. This checklist will help ensure your property is kept out of harm's way, you're out of the house at the right time, and the crew has everything they need to complete the roof replacement.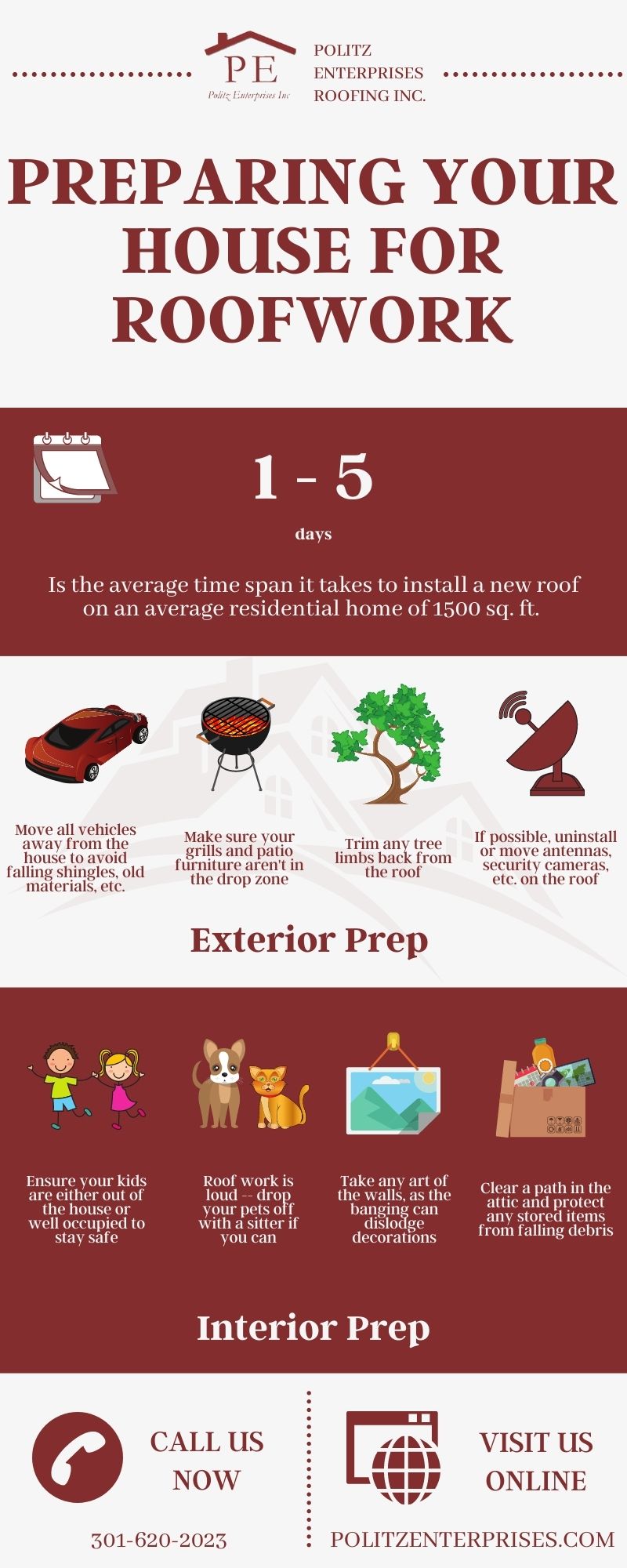 A New Roof Installation is Noisy, So Plan to Be Out of the House (This Includes Pets)
Even though a roof replacement happens on the outside of your home, the interior will echo with the bangs and loud noises of the construction. The noise will not only be a distraction and disturbance to any work or activities you plan to complete that day, it will cause anxiety for any young kids or pets within the home.
However it works best for you, be sure to be out of your home the day of the work, or at least have the majority of your family and your pets away for the day. This can include planning a day trip, dropping pets off with a family member or daycare center, and arranging a playdate for the kids. If you want to be onsite for the work, plan to wear headphones, and be in the furthest room from the roof. If the roof replacement is happening on your business, consider giving your employees the day off or closing to customers until the work is done. Even if the disturbance is minor in a large retail or office building, you always want your visitors to have the best experience possible, so try to schedule on days where business is slow.
Remove Any Loose Hanging Decorations Off the Walls Before Roofing Construction
Depending on the size of your home or business and the amount of roofing work being completed, you may need to remove any wall decorations off the walls prior to the work. A roof replacement involves a lot of heavy banging and moving of materials, which can reverberate down the walls and cause loose hanging art to fall from their perches.
Protect your family photos, decorations, art, and more by removing any wall hangings in rooms closest to the roof, and keep your eyes on others, just in case.
Clear a Path in Your Attic for Roofing Contractors
If your home or business has an attic or upper storage space, be sure to clear a path for the roofing contractors prior to the work. Some of the required tasks for a roof replacement may take your Maryland roofers indoors, and they'll need room to move around in the attic to check for leaks, security, installation, and other issues.
You also want to prepare any items stored in the attic or directly beneath the roof for falling dust and possibly other debris. While nothing major should fall, dust will become loose and coat your belongings. If any major issues are found, like a leak, you want to have everything already secure for the workman to take on the task without your items being in the way or risking damage.
Clean Up the Exterior of the Home By Checking Your Patio for the Roofers
As roofers work to remove your old roofing materials, they will throw the debris off the roof and onto a tarp in an area they have set up. However, with a large crew, wind, and other factors, the old shingles and debris don't always make it where they are intended. Be sure to remove any patio furniture that is near your home so the workers can remove the old roof without dodging grills as they discard the old materials. This will also ensure that if an accident happens, your furniture or grill won't be damaged in the process, just in case.
If work is being done on your business, check the surrounding exterior area for any items or vehicles you don't want damaged. Be sure to route customers away from any area the workmen will be, change parking directions, and do not allow outdoor seating or working.
Be Courteous to Your Maryland Roofers and Move Any Vehicles
If possible, you want to move your vehicles away from your home during the roof installation so they are safe from any falling debris. Just like with your patio furniture, the roofers will send old roofing materials down off the roof and they can scatter or sometimes miss their target. Don't risk it and move your car, which will also give your roofers peace of mind so they can work faster with less concern.
It can also help to move your vehicles if it lets the crewmen park closer to your house. This will allow the roofers to unload easier and access their tools and materials, improving the speed and overall efficiency of the roof installation.
Check Your Roof For Obstacles like Antennas or Overhanging Tree Limbs
Ensure that your roof is as hazard-free as possible for your Maryland roofing company by clearing away any overhanging tree limbs and removing any antennas if possible. By ensuring that your roofers don't need to dodge tree limbs or work around antennas, security cameras, or any other attachments, you can ensure a safer working environment.
8) Make Sure Your Roof is Protected with a Roofing Warranty
Once the work is completed you can heave a sigh of relief and enjoy your new roof installation for your Frederick, MD home or business. It is also a good idea to follow up with your Maryland roofers on any warranties they offer. While this is something you will probably have chosen when the contract was drawn up, it is still something you want to revisit before you and the roofers part ways.
An extended warranty on your roof can include coverage and protection for the roofing materials, and some may include a lifetime warranty to cover any labor. This can be especially important to help reduce future costs, be protected against accidents, and have peace of mind in case something goes awry.
Always talk about this option before something happens. While an additional cost may seem overwhelming, it will save you money in the long run and you know you will have a reliable roofing crew in Maryland to help you out if something were to occur that jeopardized your roof.
9) Gutters, Siding, and Other Roofing Services to Consider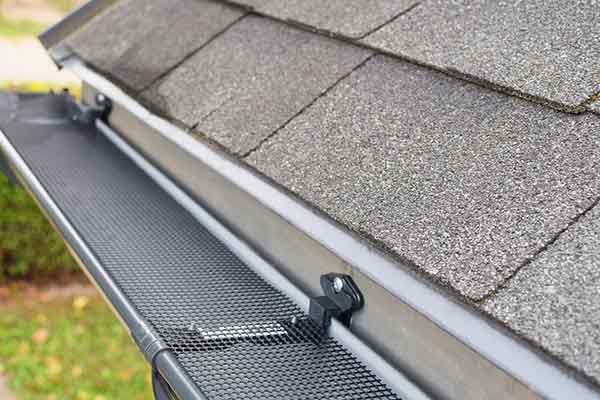 Once you have a reliable roofing company in Montgomery County you can trust, keep their information handy for future home or business projects. Many roofing companies will also provide additional home services, like gutter replacements or siding installations, siding installs, and more.
Having one company do the work on your house allows you to have faith in the work, keep the financing with one company, and always have one point of contact for any concerns or issues that arise.
Your local Maryland roofing company can help you decide if and when you need new gutters, can install gutter guards against debris, update your siding for a fresh look and better insulation, and give your home an overall makeover for curb appeal and resale value.